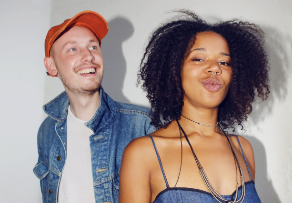 Support:
MEI
Every Friday at Colours

Join the new age of live music. New Age will showcase up and coming live neo-soul/R&B acts early in the evening. As the night turns to dark, the after party will be hosted by Supa Dupa Fly DJs serving up the latest Hip Hop & RNB to dance to into the early hours.

This is the place to come and catch rising live stars on the cusp of stardom and then party with one of London's most turn't music collective Supa Dupa Fly!
Fri 11th Oct W/ Girlhood
When ex-Elephant band member Christian met neo-soul chanteuse Tessa at the back end of 2015 they instantly bonded over their shared love of nineties pop and late eighties hip-hop.
Christian had just swapped his laptop and instruments for an iPad and bunch of sampling apps, and the pair began crafting their new streamlined sounds from his narrowboat.
A flush of tracks quickly followed during 2016 and 2017, including their debut earworm
My Boy
and ace follow-up
Bad Decisions
.
Pouring influences such as The Avalanches and The Fugees onto their distinct UK sound, they've formulated a template that's as indebted to the streets of London as it is their worldly listening habits.
Unsurprisingly, the pair's super-chilled melodies and nostalgic beats have chimed with BBC Radio 1, while their first-ever headline show in London sold out weeks in advance.
*Tickets to the live show includes entry to Supa Dupa Fly Club Night straight after!*