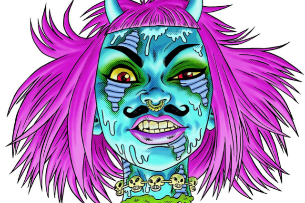 Shotgun Carousel presents Creature
Special events creators and fem-led show-makers, Shotgun Carousel join the COLOURS programme this Autumn with a WILD and eclectic new night featuring a beastly concoction of drag, circus, theatre & cabaret performances. Expect queerness, weirdness, creativity and imagination topped off with raucous live music and spontaneous cabaret - CREATURE, debuts at COLOURS with a Halloween special.

Organiser: Shotgun Carousel are a London based, fem and non-binary led production company, show-makers & magical arts collective creating theatrical events and more that explore fantasies and new mythologies. Specialists in creating bespoke performances and dazzling spectacles across the UK, we pride ourselves in our imaginative curation, high standards in production values and our passion for attention to the details. From walkabout acts, handmade costumes, extraordinary puppetry or large scale immersive performances, we explore magic and escapism in the modern world. With a loyal client base across the UK, who know our team will consistently deliver breathtaking experiences for their guests and audience members, we work down to the finest details to provide a spectacular visual and theatrical feast. We pride ourselves on creating work that is accessible, inclusive, comedic and macabre, with energy and passion in every part of our character, costume story and set creation.